Alaska Air charters, Air Taxis,
Alaska Air Tours, Flightseeing and Flying Services
This directory offers information on Alaska bush planes and air transportation for Alaska air tours, air charters, air taxis, fly-in fishing and hunting, flightseeing,river raft float trips, and wildlife viewing. Most of the flying services listed in this directory are Alaskan licensed transporters who offer package trips, guided or unguided, including camping equipment, rafts, etc., or will provide flying services only (fly in, drop off), at your option. While the base of operations for these air charter operators is indicated in parenthesis, it should be remembered that they provide flying services and flightseeing air tours and air charters for hundreds of miles surrounding their home base of operations.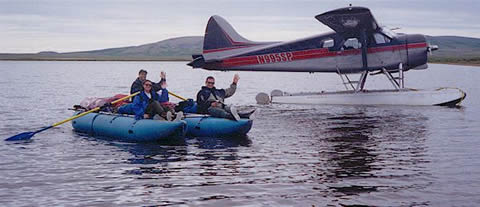 Andrew Airways (Kodiak Island, Alaska )
Call and let us help you arrange your next adventure in the great outdoors of Alaska's Kodiak Island-everything from the infamous Kodiak Bearviewing Adventures, fishing trips, hunting, float river trips, to a leisurely flight seeing trip, all of which will provide an excitement never felt before. Alaska flightseeing and air tours are our specialty along with fly in hunting and fishing trips. ; Telephone: (907) 487-2566.

Silvertip Aviation ( Arctic National Wildlife Refuge / Brooks Range, Alaska)
Silvertip Aviation, LLC is a certificated air taxi specializing in customized wilderness adventures. Whether you are looking for a one day hiking trip, multi-day backpacking trip, river rafting, flight seeing, or backcountry skiing, we can do it all and more. Our trips are all 100% custom so contact us with your ideas and we can make it happen! Based out of our fly-in only lodge on the Ivishak River in the summer months, we are conveniently located to lead guided and unguided wilderness trips into the Arctic National Wildlife Refuge and other scenic and unique areas that the north side of the Brooks Range has to offer.
Telephone: (907) 676-0421.





Ellison Air

( Anchorage, Alaska )

We would encourage everyone to experience the thrill of Alaska by air tour. We are proud to share the wonders of this great land with others and invite you to join us at Ellison Air for one of our many spectacular Air Tours. We guarantee our flightseeing will be one of the highlights of your time spent in Alaska. Telephone: (907) 243-1959.

Sportsman's Air Service (Galena and Anchorage, Alaska)
Sportsman's offers fully guided, unguided outfitted and transported air charter hunting and fishing options. Based from Galena, Sportsman's hunts the National Wildlife Refuges of Western Alaska. Alaska Game management units 21, 23 and 24. September hunts targeting moose, grizzly bear and are offered. Based from Anchorage Lake Hood sea plane base, Sportsman's also offers service to remote fishing destinations throughout south central Alaska. Call or visit (907) 248-3181 or 4504 Lake Shore Drive Lake Hood Seaplane Base - Float Slip 713, Anchorage.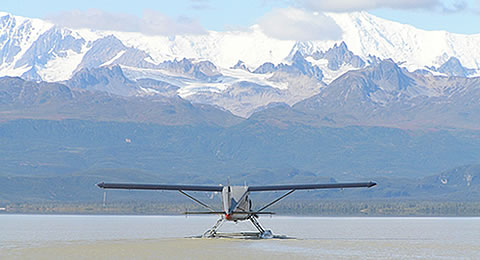 When flying into the bush of Alaska,
see the list of items you should carry in your backpack >>>

Alaska Internet Marketing, Inc.
Hosting-Design-Advertising
Anchorage, Alaska
(907) 242-7245
Email: info@alaskaoutdoors.com

What do you need to know about
chartering an Alaskan Bush Plane ?
Read more >>>

Alaska Outdoors is your guide to Bush Planes, Air Transportation and Flying Services in Alaska. Including Flightseeing Air Charters, Air Tours, Fly-in Fishing, Drop off unguided hunts, Air Tours and Air Taxi Sightseeing.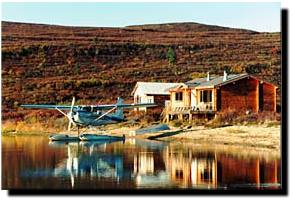 For Fresh Wild Alaskan Salmon
delivered to your door, visit
WildAlaskanSalmon.com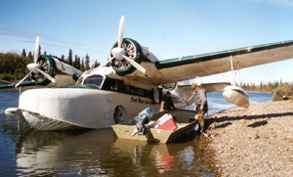 Please Note:
If your Alaskan flying requires an overnight stay in Anchorage, we recommend you visit
GreatAlaskaHotels.com